How To Write A More Effective Email For International Business?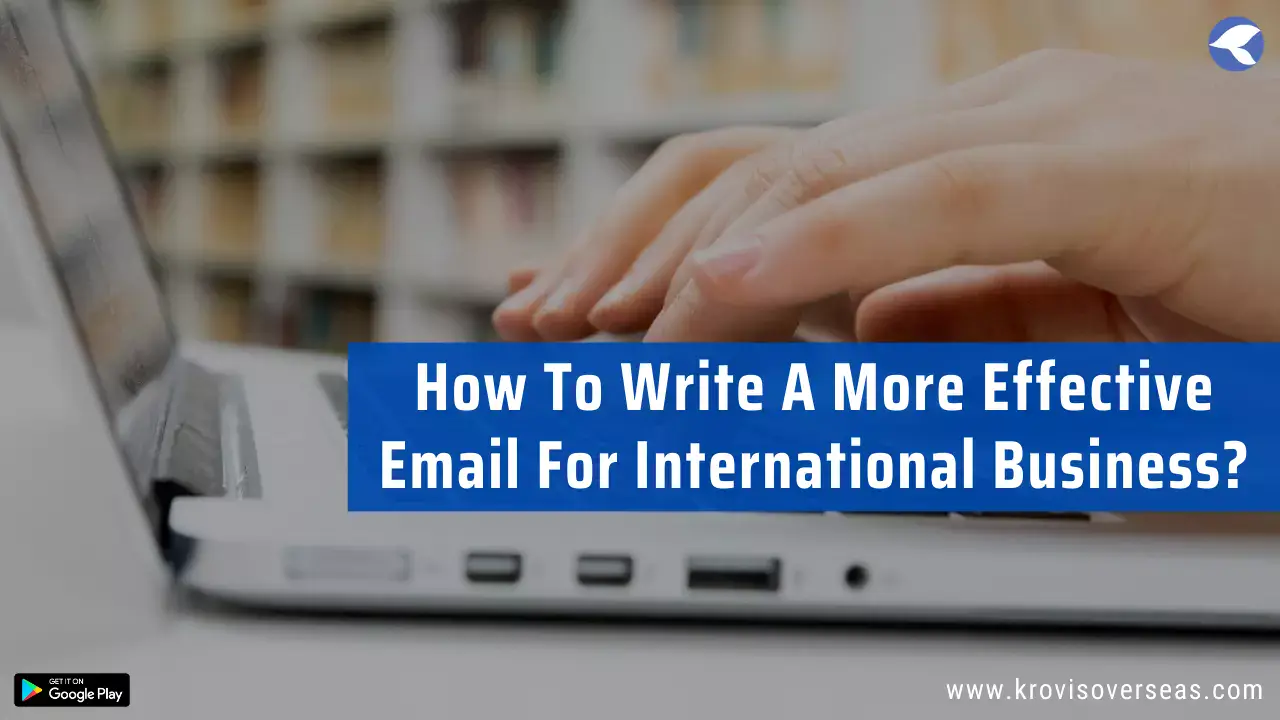 When it comes to impressing international companies for business deals, you have to communicate carefully. The option of emails appears as the best option here. A seller always faces the issue of getting ignored by buyers. Everyone is looking for a perfect solution by which they can create an email that can easily convince buyers and help them in making some profitable business deals. For all these things, you have to focus on writing some effective and impressive emails.
Download Export Import App
An email will not be effective with the addition of any graphic-based templates or using high-grade English. It requires high professional values by which the buyers pay attention, read it, and revert as well. Today, you will know what the perfect way of writing an effective email for establishing a good business is.
Things To Keep In Mind
Writing a professional and formal email for your business requires proper attention where you have to follow a proper procedure. In the upcoming details, you will know how all these things can be possible and you can come up with an effective email for establishing yourself in an international business.
1. Email Goal
Firstly, all individuals need to get clarity regarding email goals. You have to figure out why you need to send an email, what you are expecting, and much more. You should write an email by keeping your goals in mind. While setting up goals for an email, you need to keep everything simple. Setting up simple goals can assist you in writing everything perfectly. Mainly the goals are -
Getting click on the email and encouraging them to visit your landing page
Getting email clicked and redirecting the readers to other places like - social media platforms or watching a video
These are some major examples of email goals. In simple words, the course of actions that you desire to complete by readers should set up as the goal.
Releted: 10 Amazing Tips For International Email Marketing
2. Subject Line
If you have clarity regarding email goals, you should work on the subject line. Here, everyone has to add an attractive subject line. The subject line is the first thing that interacts with the reader. In case you do not set a perfect subject line, it may not grab the readers' or receivers' attention. Due to this particular issue, you may not connect with companies easily or convince them to get converted and make a business deal.
You should try to keep your subject line simple, attractive, and specific. You should not use wordy and complicated lines that may represent a different meaning. If you do so, then it may mislead the readers and create confusion.
3. Attractive Opening
In case you use a perfect subject and get success in encouraging the receiver to open the email, then you have to focus on the first line. You should keep it as appealing and impressive as you can. If the reader finds the first few lines of your email out of topic or dull, then they may not read it further. It is not good for your business establishment.
You should begin your email with pleasant greetings. With all these things, you have to focus on the tone of the email. It is good to keep the email tone completely formal.
4. Listing
While writing an email, everyone needs to add multiple things. Here, you need to be creative and add information in an impressive manner only. To make such a thing possible, you should try to create some lists. The availability of lists in the email can help you in making the content scannable and easy to read. It is the best way to highlight something important and unique effects.
5. Explanation Of Benefits
The most important thing is making the email attractive and well explanatory by which the buyer can understand why they should buy your product. To make it sure and possible, you have to explain the benefits associated with your product. You should add benefits for both the company and the consumers.
It will help you in representing your products and services as the valuable ones by which you can make lots of things better. Here, you need to add all features and benefits related to the products and try to explain it effectively and as short as you can.
6. Differentiate Your Email
When it comes to approaching clients with the best and fully-featured products or services, then emails are becoming long. In case your email is going to be too long, then it is good to add some subheading there as well. The availability of subheadings can assist buyers in differentiating the complete content and make things much better. Along with it, the addition of subheadings can help the readers in understanding different parts of email as well.
7. Add Call To Action
To make the email more effective and appealing by which any response on it and complete your desired course of action, you should add a proper call to action. The availability of calls to action can encourage the readers quickly and motivate them to respond to your email.
8. Email Signature
In the case of an email, a signature defines lots of things. Here, all individuals need to make sure that they mention a clear and perfect signature to their email. You have to focus on the signature and try to keep one thing in mind, it is clear and easy to understand. In case you are facing issues in finalizing the signature, you can get some templates on the internet. With the help of templates, you can understand how a signature looks like.
9. Proofread & Checking
Once you are done with everything and writeup the complete email, after that you should have a look on it carefully. You should proofread the complete email and try to make sure it is completely free from errors. Generally, the individuals are leaving emails with grammatical mistakes and sent it to the buyers. The availability of these types of mistakes can lead to a loss of interest of buyers. You should check out the complete email and avoid all errors such as -
Spelling errors
Word usage errors
Punctuation errors
Incorrect information errors
For these types of corrections, you can get help from some online tools or sources as well.
10. Sending Schedule
Some people are making the mistake of sending an email when they complete writing and finalize it. It is not the right way to send an email mainly when you are dealing with someone at international levels. Here, you should try to get details about the receiver's time zone and schedules. Try to send an email during the working hours only.
Final Words
All these things can help you in getting complete clarity regarding email formation and how to make it effective as well. After sending an email, you should wait for a revert for a few days. In case you don't get any revert or response on the email, then you should not forget to get the follow-up. It can help you in strengthening your email strategy. To get more clarity and understanding, you can discuss such things with the business experts who are specialized in consultancy services as well.