10 Amazing Tips For International Email Marketing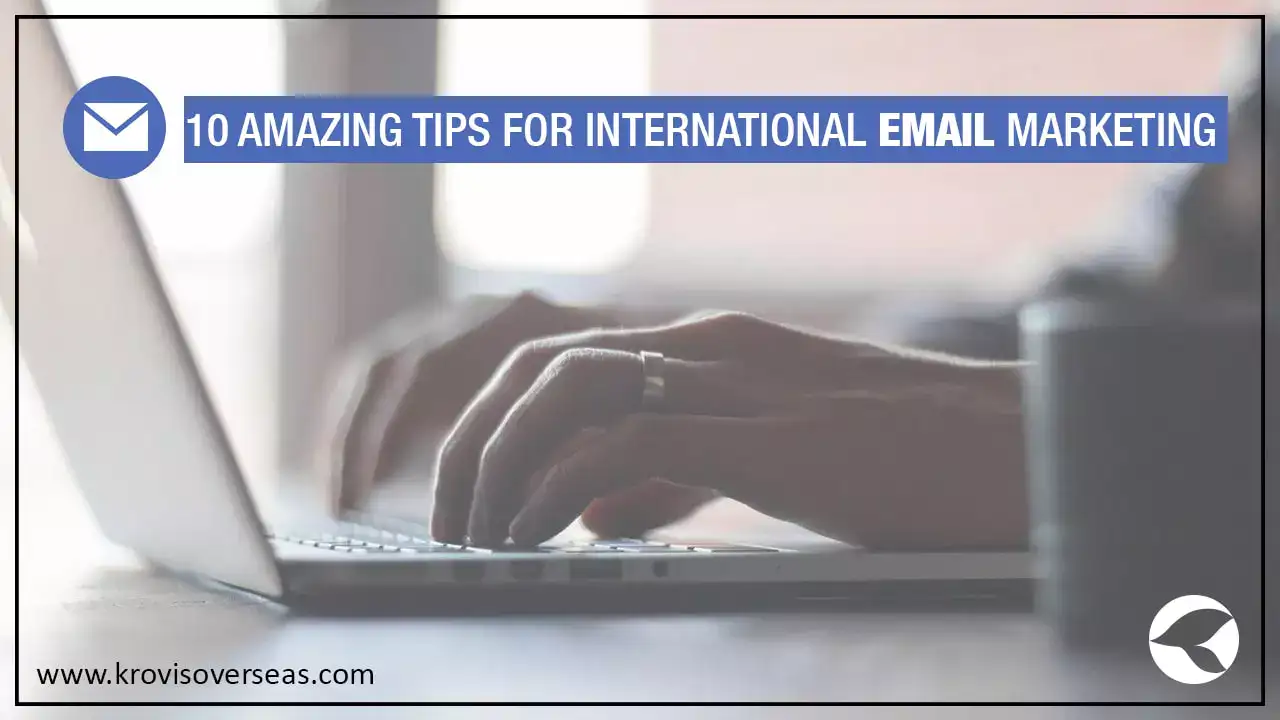 Once you entered the international market to expand your business, then the most important thing is marketing. While dealing with other businesses (competitors) in the international market, the interested ones have a focus on developing an impressive marketing strategy only. With a good strategy, business owners can easily promote themselves and create hype or buzz in the market.
It helps in impressing other end companies to make a business deal. When it comes to finding sellers or buyers in the international market, then you should pay attention to the expansion of marketing strategy. The availability of a good strategy can be useful in presenting the business, products, and services effectively. It is the only way by which you can showcase what makes you different as compared to others.
In these conditions, there are multiple options or marketing strategies that can be suitable for your business. If you want to pick the most effective that can lead to a good impact on other countries, then the option of email marketing appears on the top. Everyone does not know how to do email marketing perfectly. Here, you can get lots of information about email marketing and related factors.
Major Tips
1. Language Control
While focusing on the online market, then content plays the biggest role. Without an effective content strategy or creation method, you may not get success in creating a good marketing campaign that can be useful in grabbing the attention of multiple users and convert them into final buyers. If you are creating the marketing content for an international audience, then language appears as the main barrier.
Sometimes, people from your target audience may not understand the proper meaning of your sentences or words in English. In these conditions, all readers pick the option of online translation sources only. In some cases, the actual meaning of words or sentences is changed after translating to other languages.
To prevent such a bad situation or pass a wrong message to the audience, you should get help from the experts for proper language control. You should write the content of the complete campaign, translate it, and ask an expert to review the content and meaning of each word. You have to make sure you create a message or use the words perfectly that do not affect meaning after translation as well.
2. Choose A Local Translator
Choosing a country and pick a translator as per the country's language is not enough to keep your content perfect. Sometimes, you can see some major differences in a country on the regional levels. These differences are created with local slang or cultural differences. In these conditions, if you are targeting a fixed region or area, then you should try to hire a local and trusted translator only.
Here, you cannot go with random options. Try to find someone who has lots of experience in local translations and known to multiple local dialects. It helps you in preventing all types of language-related problems and make things easier.
3. Be Careful With Images
If case you are putting effort into the international marketplace, then you need to be careful with lots of things. The most important thing is the content that you will share with the audience. Here, we are talking about all content types, such as - visual and textual. If you focus on the visual content, then it leaves a great impact on the audience.
When you are creating images for your email marketing campaign, then you have to keep one thing in mind that your audience receives multiple emails in a day. You should try to keep your email different from all other emails by which it can grab the viewer's attention and encourage them to explore more. You have to create some unique, and creative images by which you can easily deliver or pass a message.
Along with it, some people are trying to use similar types of images that helped in getting success in another country or region. Here, you should remember all regions or countries are not the same, and the cultures and types of an audience are completely different. It becomes crucial to change the content as per the audience and region.
4. Selection Of Words Or Context
With the countries, the usage of context also brings some changes. All countries or marketplaces do not allow the usage of similar kinds of words or contexts and mainly for marketing purposes. In case you check out the culture or marketing sector in the United States, then a little aggressiveness is considered by everyone.
However, in some countries, the use of special words or contexts like 'Best' is associated with some complications as well. Before planning for an email marketing campaign and focus on further proceedings, you should not forget to check out that country's specific rules & regulations.
5. Email Formatting
Email creation or formatting for both marketing and normal purposes is completely different. In both conditions, the objective of the email creator is completely different. It is the biggest reason that's why everyone has to decide multiple factors, such as - placement of hyperlinks, price postings, salutations, and much more.
Releted: How To Write A More Effective Email For International Business?
6. Timings To Send
Another most important factor is timing. In case you are sending an email to another region or country, then you should not forget to gather proper information about the time zone of that particular area. You should try to pick the time carefully by which you can target the active audience. In case you send an email when the audience or receivers are not active, then the chances of getting the email ignored are higher. You need to be careful and smart here.
7. Focus On Law
Law plays a big role while performing some commercial activities. In the case of commercial emails, you have to follow some specific rules & regulations and work accordingly. If you do not check out all rules & regulations properly, then you may face legal issues in the future. In these conditions, you have to check out multiple factors.
8. Proper Listing
Sometimes, things are becoming messy in the case of international businesses. In these conditions, you have to check out multiple factors and make a final decision carefully. You should focus on creating a proper list related to your audience by which you can set recipients while sending emails quickly.
9. Audience Segmentation
In the case of international email marketing, everyone needs to be smart. The most crucial factor is related to the segmentation of the audience. While targeting an international audience, then your audience may belong to different countries or regions. In these situations, you have to send different content types to everyone as per their language preference, culture, etc. Here, you should try to divide your targeted audience by categorizing it according to the country, language, and other important factors.
10. Focus On Optimization
One thing that you should not forget is proper inspection. After running an email marketing campaign for a short time, you have to inspect it perfectly. In case you don't get unfavorable results, you should figure out problems and optimize them accordingly. Here, you have to check out lots of factors, such as - language barriers, time zones, images, price tags, currencies, and so on.
Final Words
These are some major tips by which you can easily understand how to plan or create an effective email marketing campaign for an international business. For more details and perfection, you can get help from international email marketing professionals only.