Types Of Risk In International Business & How To Reduce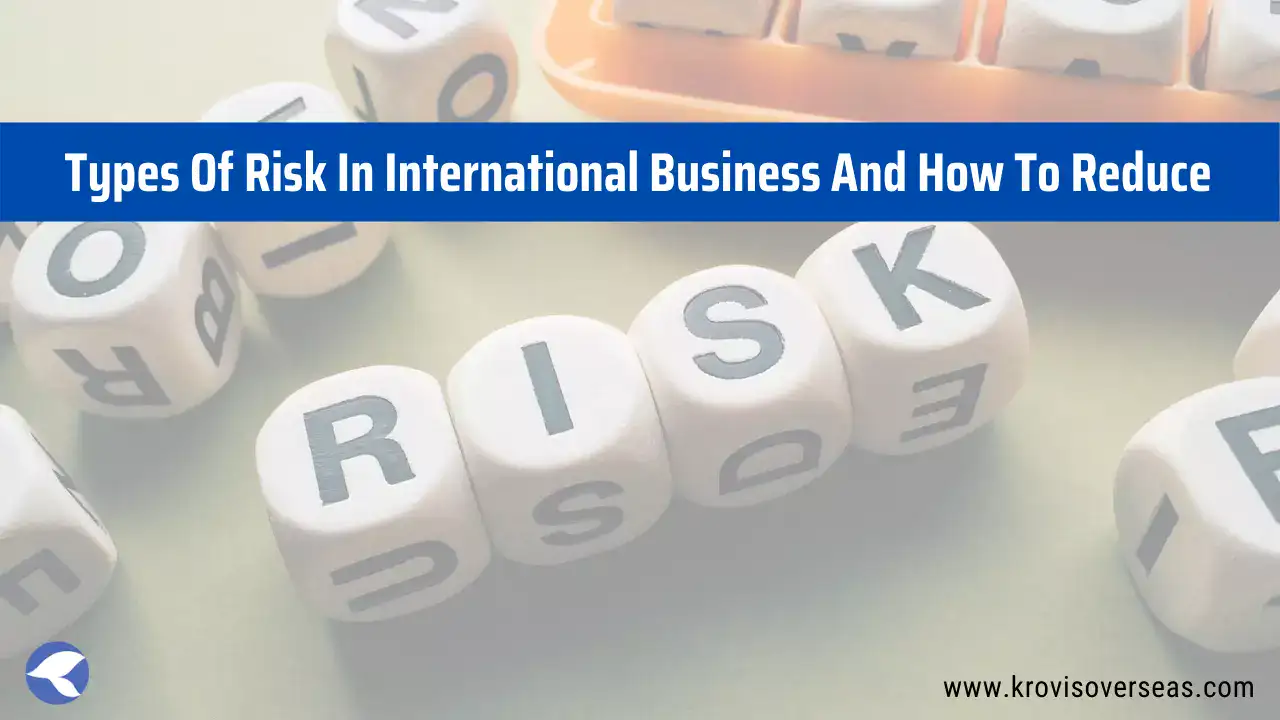 "Risk is a part of business, and no one can fully eliminate it. Businessmen can do one thing; they can reduce risk and its effects by keeping things well-managed."
When it comes to international business, the level of risk also becomes higher. But no one wants to face unnecessary losses or problems. Due to it, everyone wants to get aware of all potential risks first and then take actions accordingly to minimize its effects as much as they can. While dealing with online marketplaces, you need to face several other risks as compared to local businesses.
International Transportation
Intellectual Property
Credit
Currency
Buyers-Sellers Trust
These are major factors. Risks can create some barriers in your business operations. It is important to understand the risk, manage things properly, and come up with a perfect solution to overcome it. In the following paragraphs, you will get details about potential risks in international businesses along with solutions.
Risk Types And How To Manage Them
1. Credit Risk
The most important part of a business is a consideration, whether it is international business or local. In consideration, the buyer pays money and gets goods, and the seller gives goods and receives money. During the transaction or consideration, the seller takes the biggest risk by giving goods without payment in advance.
In the majority of business transactions or dealings, credit is in existence. In case the buyer denies to pay the amount, the seller faces complete loss. Here are two major solutions available to prevent such conditions.
Full Payment
If you want to reduce or prevent the credit risk, you should try to get complete money in advance. It can be a difficult thing to convince buyers to pay 100% money in advance. In these conditions, you can go for a decent portion of the complete payable amount.
Letter Of Credit
While dealing internationally, a letter of credit is also a big financial instrument that can guarantee the payment later. It protects both parties and also useful in building trust by completing consideration without violating terms.
2. Intellectual Property Risk
In some cases, the business details or information can be used illegally in other parts of the region. It can be anything, such as – strategic data, logo, business name, the resemblance of products, etc. These things can also affect the original business while setting up in that particular area.
There is a perfect solution available to this problem. Many companies think they are signing agreements before trading in the country, and it is enough. In reality, it can lead to intellectual property risk. Here, you can prevent it by getting your business name, logo, trademark, and other vital information registered under government rules & regulations.
Along with it, you should try to strengthen your sales funnel, marketing, and customer support for a better user experience. All these efforts can help you overcome all problems quickly.
3. Foreign Exchange Risk
In the case of international business, sellers will get payments in international currencies. The price of international currency is highly flexible. It changes quickly; sometimes, fluctuations in a price bigger. Due to all these things, company margins are also getting affected. If the price is too high between the period of signing the deal and making a final payment, it can lead to a big financial problem as well.
For dealing with such a risk effectively, you should try to focus on some specific exchange policies. These policies can provide a perfect solution to multiple problems. The following can help you here.
Try to mitigate adverse effects of rate fluctuations on procurements and sales
Make plans and strategies properly for simplification of foreign and domestic pricing
Cash flow control enhancement
Stabilize profit percentage on sales
Before commencing the business in another country, you should try to inspect the complete foreign exchange and currency risk first. Based on such assessment, you can create an effective policy or plan that can be useful in minimizing the effects of currency price fluctuations.
4. Ethical Risks
All companies have some ethical standards, rules & regulations. These standards are making a business different from the existing one and help in connecting with customers. When it comes to the international and global market, companies need to be more cautious regarding their ethics.
In other countries, your company's sales and marketing operations will handle by partners or agents. You need to make sure that everyone is taking care of these things perfectly. You should choose the partners and agents who can represent your ethics and values properly.
5. Shipping Risk
Shipping is the biggest part of the online marketplace. It is the only thing that connects a buyer with the seller. No matter, products are going to be shipped to another country or locally, the risks are always the same. A factor that changes is only the level of risk.
Contamination
Seizure
Accident
Vandalism
Theft
Loss
Breakage
These are some major risks that may affect shipping procedures. If you may any potential risk factor in real, you cannot bring damaged goods back to normal conditions, but you can get yourself saved from financial losses. It can be possible with insurance. You should take proper insurance of goods that can help you overcome shipping issues.
If we talk about international business, there are some specific rules & regulations and guidelines set by the international chamber of commerce. You should focus on business activities according to these guidelines and take all necessary steps.
6. Country And Political Risks
Some risks and factors cannot be eliminated with management or anything else. Businesses need to deal with these things smartly and by preparing a perfect strategy. Generally, these risks are related to some legal authorities that are authorizing the business operations in the market.
All countries are having different rules & regulations for business and trade. Many countries allow some products to trade, and some countries may ban those products in their markets. Expanding or commencing business in other countries without having knowledge about these factors can affect the business a lot. Before taking any step in a foreign country, you should try to understand all restrictions and guidelines by accessing the official website of the Ministry of Foreign Affairs and Trade.
In case your products and services are fully compatible with the country's trade standards, you will get sanctions for business. Otherwise, the chances of rejection are higher.
Final Words
These are some major risks that can affect your business activities in the international marketplace. You can encounter all risks and keep your business running flawlessly by keeping things well-managed and regulate all activities as per the government trade guidelines.