8 Tips For International Business Etiquette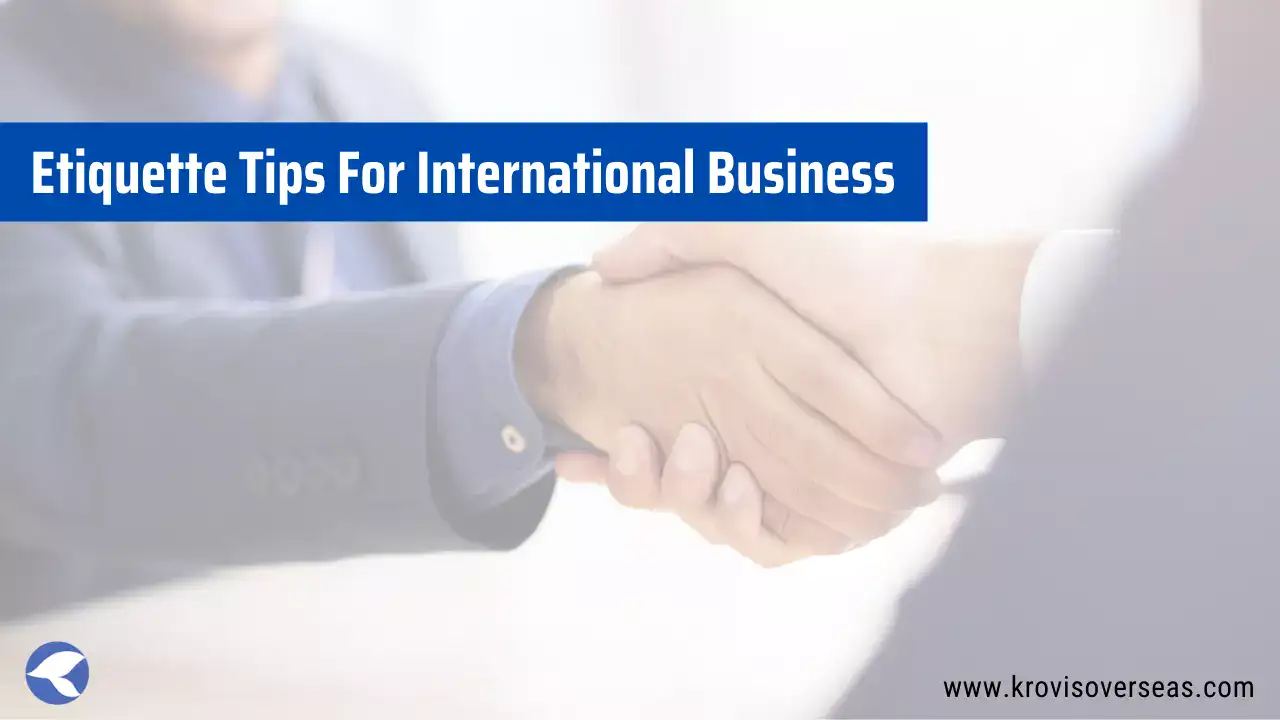 More than just focusing on your products or finding out ways to sell them, the business also means building relationships and bonds that are going to help you throughout your long journey to success. You need to have a mutual understanding and bond of trust with the people that you are working with. But when it comes to mingling with people from different cultures and countries, it can be a little bit difficult. But difficult does not mean impossible, here we have mentioned a few tips that will provide you an idea about how to leave a long-lasting good impression on your foreign associates and increase your business in the international markets.
International Business Etiquette Tips
1. Learn Proper Titles And Names
People from various countries prefer to be addressed by proper titles until they are comfortable enough to be on a first-name basis. So when in these countries you need to be prepared and address the people properly with the use of titles followed by the last names. Also, not every country prefers the titles Mr., Ms., or Mrs. You need to go prepared and get to know about the country's culture and communication etiquettes before you disrespect someone because of your lack of knowledge.
2. Appropriate Greetings Is A Must
We do not get to take retakes on the first impression as it only occurs once. That is why you need to leave a good first impression especially when you are in a land of different cultures and customs. Even a wrong greeting is enough to piss someone off. You need to understand the traditional greetings like a Handshake, Namaste (for india), Ni Hao (for china) or Hugging that any country might have. The wrong Greeting can easily lead up to an awkward situation. Not just the gestures but your expressions will also mean a lot. So, it is better to get your expressions as well as your greetings on point.
3. Learn A Few Words Of The Native Language
Well, it is not compulsory to learn the native language, but a few words will only help you leave a good impression on the business associates you will be meeting. It is always appreciated when someone puts in some effort to learn a few words of one's native language. You can also include some of these words in greetings in your business prospect to attract the associates towards you and your business and to leave a good impression on them.
4. Respect The Physical Distance
In different countries, there are different rules for how far you should be standing from someone. In most western countries, the distance is approximately one and a half meters so that the handshake is possible without the need to take any further steps. In Asian countries, people tend to stand two meters apart while the distance tends to shorten when we move towards the Arab countries. You need to familiarize yourself with these rules and preferences so that you do not offend any of your business prospects by either standing too close or moving too far away.
5. Understand The Gift-giving Custom Of Different Cultures
In many cultures it is expected of you to bring gifts when you are meeting someone for the first time and failing to do so is considered rude. While in some of the other countries it might be considered rude to bring gifts at the meetings. The business executives need to properly understand this and act accordingly. Along with the time and manner the gift should be presented at you must also consider the type of gift that can be given.
6. Learn About The Various Negotiating Strategies
Negotiating in the international markets can be really difficult and you must always do it carefully or else it can easily lead up to various cultural misunderstandings. To avoid any kind of complications you must always understand the importance of hierarchy among the business prospects that you are approaching and the negotiating style that will suit them best. Also, you need to carefully inspect the nature of agreements in the international market and the significance of your gestures as well. You must establish a strong relationship with the associates and that will be the stepping stone for the success of your business venture.
7. Do Not Lose Your Calm
If you are more comfortable with the pace at which business takes place in your countries then you might need to have a lot of patience. While many countries might work at the same pace, there will be the ones a lot faster or slower and it might sometimes irk you. But being patient is the only quality that can help you in these kinds of situations. It is always a good idea to spend some time building some personal relationships as this will help you a lot.
8. Know The People's Attitude About Time
There are countries that are extremely punctual and will take being late as an insult while the others are quite laid back in this matter. You need to understand this properly before your meetings and try every possible means not to offend anyone by your arrival time in the meetings or gatherings. People from various countries have different approaches towards the time and it will only help you to understand it properly if you are trying to impress them for any kind of business merger.
Conclusion
All of the above-mentioned tips are going to help you to impress the foreign delegates and establish your business overseas. These points are to make sure that you do not end up hurting anyone's culture or rules. It is also better to hire an intern or employee in the country you are going for business. They will be well aware of the local traditions and culture and will keep you well informed as well. Having someone belonging to the country by your side will only help your case and will provide you an added benefit to win the heart of your clients or business prospects. Consequently, the chances of getting business establishment are higher.