How To Get Importers List From Embassy?
Commencing and running an international business isn't easy for everyone. Here, the business owners have to put lots of effort into gathering complete information about buyers or new business partners in foreign lands. Many companies don't know how they can get the list of potential buyers or companies in another country. Here, contacting the embassy is the biggest and most effective option to gather such information. In the following details, you will get a complete procedure that you should follow for such a task.
Logo Design Online - Create Your Unique Logo Today! Logo Design + Everything You Need To Build and Grow Your Brand and Business from fiverr.com.
A Step By Step Guide
Step 1: Contact Embassy
Firstly, you have to contact your embassy in the targeted region. An embassy is always available to support business organizations of their country by which they can increase overall country export. You can contact the embassy by sending an official email. Now the question appears, how to figure out the suitable email address for such a task.
Here, you can get help from the embassy website. On the embassy's website, you can see a list of different types of departments. In the section of each department, you can find the name of an expert or appointed officer along with an email address to contact.
You should pick the email addresses of officers who are appointed in the commerce and economic departments. You need to send a well-formatted email to them.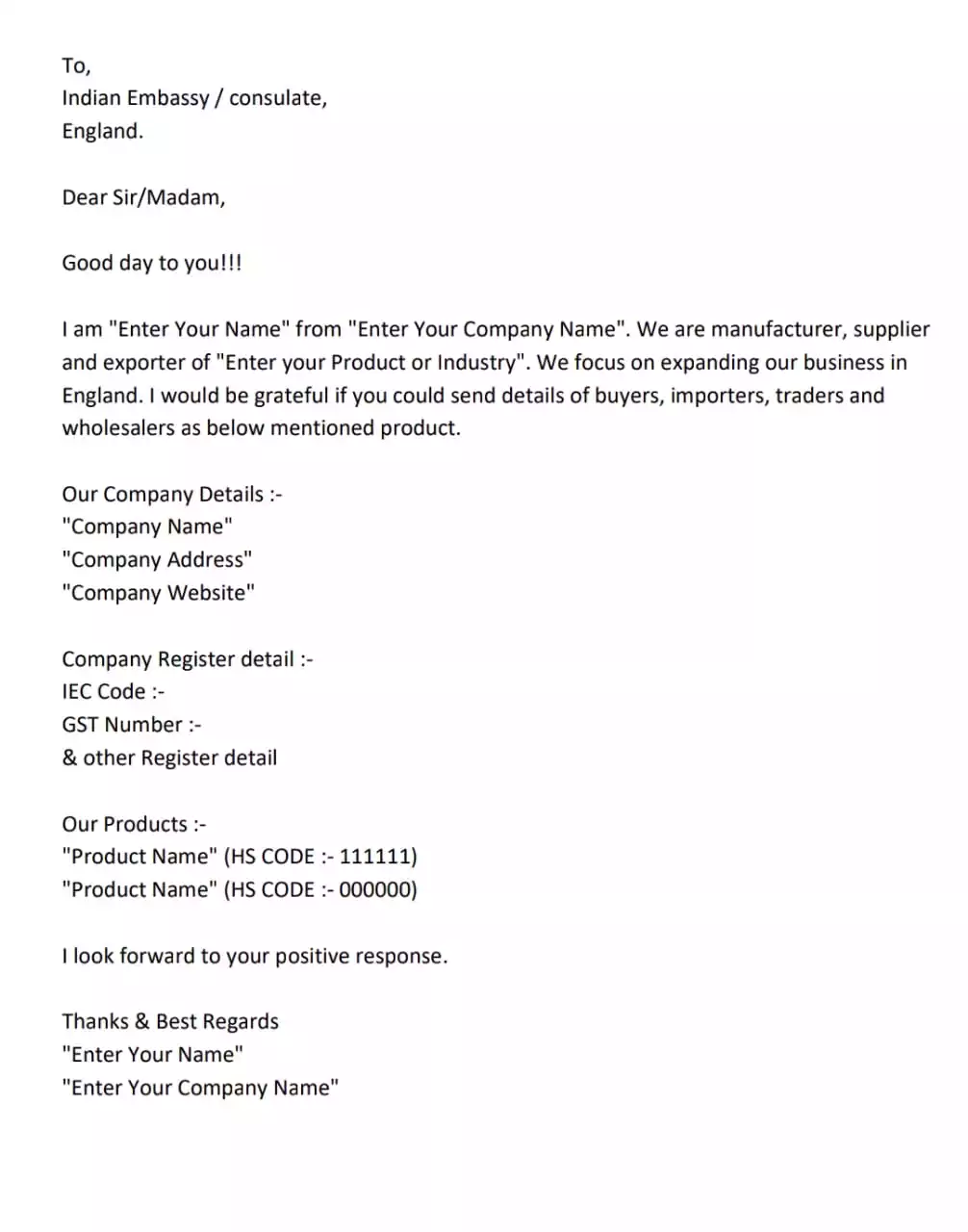 This image will help you to understand how you can write an email to express your requirements properly. Before sending an email, you should cross-check the complete mentioned data. You should not send an email with the wrong information. It may lead to adverse results.
Step 2: Get Follow-Ups
Most commonly, it takes the time of a few days to get a response or a reply with complete required data. You should not take it carelessly. In case you don't get any reply, you can take a follow-up by replying to the same email thread. It may help you gain the attention of officers and get your work completed quickly.
Step 3: Verify Information
After all these things, you will get a list of importers from embassy officers. Many individuals start following the list immediately and commence business operations. You should not make such a mistake. Before taking any step, you need to verify the complete information and list of importers provided by the embassy.
All business industries are having a huge range of products and services. Sometimes, your business services may not be suitable to some importers from the list. The list of importers from the embassy will provide a perfect base to do research and avoid confusion in beginning. It works like a head start source.
It is the best way that can help you get a list of importers from the embassy. In case you have any confusion or problem, you can get assistance from import-export business experts.