How To Choose The Right Freight Forwarder?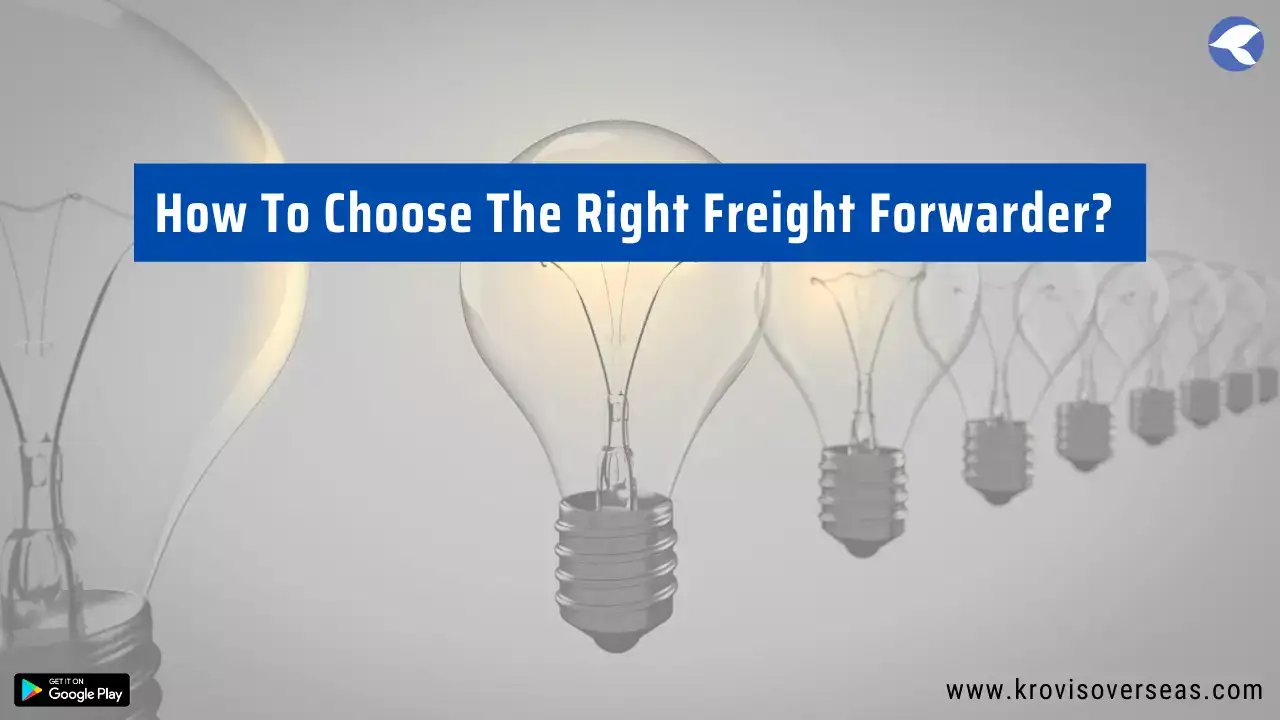 While running an international business, companies have to take care of lots of things, such as - buyers, suppliers, and much more. A freight forwarder is one of these important professionals. You have to choose the right individuals by which you can make lots of things better. In an international business, only one person cannot complete all types of activities and complete trade considerations. Here, companies need to get help from multiple individuals and work by creating a proper chain. All individuals are playing an important role. Here, we will discuss some major information about freight forwarders.
Who Is Freight Forwarder?
Transportation is one of the biggest parts in the case of international businesses. The exporter is the individual who has to deal with such a task carefully. The exporters need to focus on lots of factors when it comes to freight forwarding and some other related activities. They have to inspect each and every element deeply and keep things well-managed. For businessmen, it is not easy to keep everything managed on their own. Here, the companies are hiring the freight forwarder who will take of shipment and delivery related things.
A freight forwards is an individual who acts on the behalf of the cargo owner. If we talk about the responsibilities of a freight forwarder, then it starts with the moment goods picked from the exporter's place and until it does not deliver to the buyer. It is the complete responsibility of the freight forwarder to align all resources and follow a perfect way for the shipment of goods.
Key Tips To Choose The Right One
You can pick anyone randomly for handling shipment and delivery responsibilities as the freight forwarder. For such a task, the interested ones have to check out multiple factors, such as - choosing an experienced one, registration, and much more. In case you pick the wrong option, then it can become a reason for multiple problems during the shipment, or you may face some big losses. You have to check out multiple points and factors before choosing a good freight forwarder.
Figure Out Requirements
The interested ones have to focus on requirements first. They should consider this particular step in the beginning before starting to search for a good freight forwarder. Here, you need to determine some basic things, like - what kind of transportation source is suitable, the volume or quantity of goods you want to ship, and much more. Before signing a contract or hiring the forwarder, you have to clear such factors. Otherwise, you may face multiple barriers in the future that may affect the complete shipment procedure.
Industry Research
International business is not related to a single kind of industry. Companies from all industries are buying and selling goods from/to other countries. With the change in the industry, there are lots of aspects that also changed, such as - types of goods, nature of goods, way of transporting, and so on. While hiring a freight forwarder, you have to keep it in mind. You should try to choose a freight forwarder who deals with the consignment related to your business industry. In case you pick someone who does not have experience in dealing with your type of requirements, then he/she may not know how to deal with your products and transport it perfectly.
Handling Capacity
If you are running a business organization on a large scale, then you may be dealing with companies from multiple countries. Sometimes, you may need to deliver goods to multiples locations at the same time. It can be possible if you have a good and capable freight forwarder. In case you pick someone inexperienced who is not capable of making such a thing possible or never handle these types of deliveries, then you are making the wrong decision only. You have to be careful regarding this particular element as well.
Check Out Background
With all these things, you should try to be focused on the background of the freight forwarder as well. In the case of the background, you have to check multiple factors, such as - experience, track records, previous consignments & their deliveries, trade association links, freight forwarding networks, etc. All these sources can help you in gathering lots of information regarding the service provider. Based on such information, you can inspect and complete multiple options. It can be useful in eliminating the confusion and considering deep research.
In case you are inspecting a legitimate or registered service provider, then you can definitely get his links with trade associations. Along with it, these types of freight forwarder never hesitate before presenting details regarding their networks. It can help you in getting more clarity about everything and also build some trust.
Shipment Management Methods
Everyone should try to choose the best source only that provides services by keeping everything managed perfectly. You have to figure out how the service provider will manage the complete procedure and shipment operations. Here, you should try to gather details, such as - their step by step process, documentation methods, distribution of responsibilities, process & workflow, etc. It will help you in knowing, you are choosing the right option or not. Along with it, you should ask for the tracking options as well. Try to choose the company that provides online tracking services for your goods and keeps yourself updated with the position or location of the consignment.
Agents In Other Countries Or Not
The exporters have to bear the responsibility of delivering goods directly into the hands of imports. It means they need to be careful with lots of things and keep ready for any kind of situation in foreign lands. There may different types of problems appear, such as - strikes on the port, issues with customs clearance, and much more. While facing these issues, the interested ones have to visit the place physically with the person who has some knowledge about local activities and areas. To make sure it, you should ask the freight forwarders regarding agents in the destination country or place.
Final Words
You should try to focus on these facts carefully while searching for a good freight forwarder. Along with it, you should not forget to pay close attention to the testimonials. For more international business related details, you can get help from our other articles, For More Updates Join us on social media.