How To Convince Buyers For Export Business?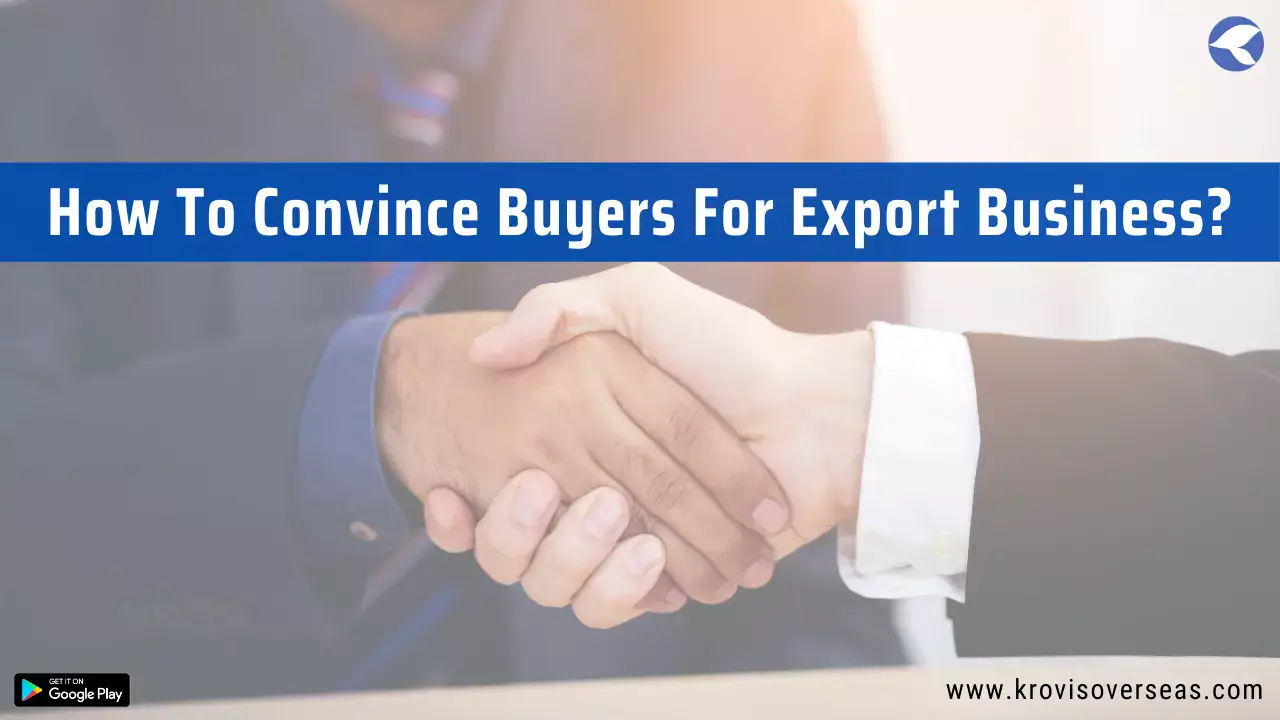 Commencing and establishing a business at large is not easy for anyone. It needs lots of effort, hard work, time, effective strategies, and much more. Mainly it includes several steps where all companies have to come up with an effective business strategy by which they can complete the task quickly. If we talk about international business, mainly export, everyone faces issues in two major steps and these steps are -
Finding potential buyers for your product and services
Convincing buyers for placing orders
Searching for the perfect buyers can be possible by considering proper analysis and research. When it comes to convincing the buyers, then everyone has to be focused on lots of factors. In the upcoming paragraphs, you can get some major details regarding all these things.
Things To Keep In Mind
Convincing an individual to buy your products is not a cakewalk. Here, everyone has to focus on multiple factors such as - buyer's consent, how they want to deal, they have an interest in your product or not, and much more. The biggest issue that appears in this particular situation is related to trust. Sometimes, the buyers are not feeling comfortable talking to the sellers or trust them to deal financially. Here, everyone needs to work on some basic things to convince the buyers quickly. With the help of the following points, you can easily gather complete information regarding these factors.
1. Use The Right Reference
An international buyer may get hundreds of emails and messages as you send them. In this particular condition, the probability of getting a positive response from the buyers is very low. You have to use the right and effective references in the emails or messages to make it possible and start communicating with the buyers seriously about business.
Reference is mainly the source where you find details about that particular buyer and its complete information regarding the business. Here, you have to use trustworthy and reliable references only. Sometimes people forget to mention a reference or use a random reference by which it becomes difficult for buyers to trust.
Releted: How To Write A More Effective Email For International Business?
2. Check Out Profile
In case you focus on international businesses, all companies are having a well-designed website to showcase their profile and business. Before approaching a buyer, you have to focus on their profile first. It can help you in gathering lots of information regarding their business. Many sellers skip this particular step and start connecting with the buyers after getting the data.
It is not the right way to do all these things. To make things better, you should inspect everything about the buyers such as - what kind of business they are running, what their requirements are, how you can facilitate their business, how your products are useful in their business and much more.
Mainly these types of companies believe in dealing professionally. Due to it, they are focusing on lots of things. Along with the company details, you need to gather some major details about their main competitors.
3. Proper Communication
Communication plays the biggest role. It helps you in sending your message perfectly to buyers and encourages them to make a business deal with you. There are different types of sources available to communicate such as - messages on WhatsApp, emails, etc. The first and effective method to deal with such a thing is the email. While writing an email, you have to check out multiple things, like - proper formatting, no grammatical errors, availability of references, and much more.
The most important thing for gaining the trust of buyers is proving, you are a trustworthy option. It can be possible by mentioning links properly in the email. You should add links regarding your previous work, client testimonials, certifications, YouTube videos, and much more. All these things help you in increasing your credibility and impressing the buyers quickly.
Try to make sure that you do not make things complicated or unprofessional by attaching multiple files to the email. To make things perfect, you have to add links. It will increase effectiveness. In the email, you have to provide some basic information about yourself, references, and your objective of communicating. Don't write a big or lengthy mail. Try to keep it short and specific only.
Another biggest factor is the mail subject. In case the subject of your email is not specific and appealing, you may not grab the buyer's attention to make a deal. If you don't get any response on the email, you should try to get a follow-up on WhatsApp or on other sources.
Releted: How To Communicate With Foreign Buyers?
4. Clarity On Website
While dealing in the international market, all companies should have a good website. Before approaching the buyers, you have to make sure, your website has complete clarity regarding web content and delivering information perfectly about the services and some other factors. You need to mention all details regarding your business, products, and services on the website.
Along with it, try to keep the website user-friendly and rich in user experience. During all these things, you have to add complete information about the certification and credible details. You should not forget to add all credible links to the website that can help you in presenting yourself as a certified and capable source for providing services. You should add the link of the website and all certifications in the message.
5. Follow-Up Tricks
Sometimes, the buyers may not pay attention to your emails due to any reason. Here, everyone needs to be focused on a good follow-up strategy. In case you lack communicating and follow-up procedures, you may not get responses quickly. Here, you should use some basic tricks by sending one-liner appealing or punching lines. It can encourage the buyers to go through your business details and contact you immediately.
6. Final Words
These are some key factors that you should keep in mind while dealing with the buyers for export business. If you don't get replies on messages or follow-ups, you can contact experts to get proper guidance and make things better.