What Are Advantages And Disadvantages Of Exporting?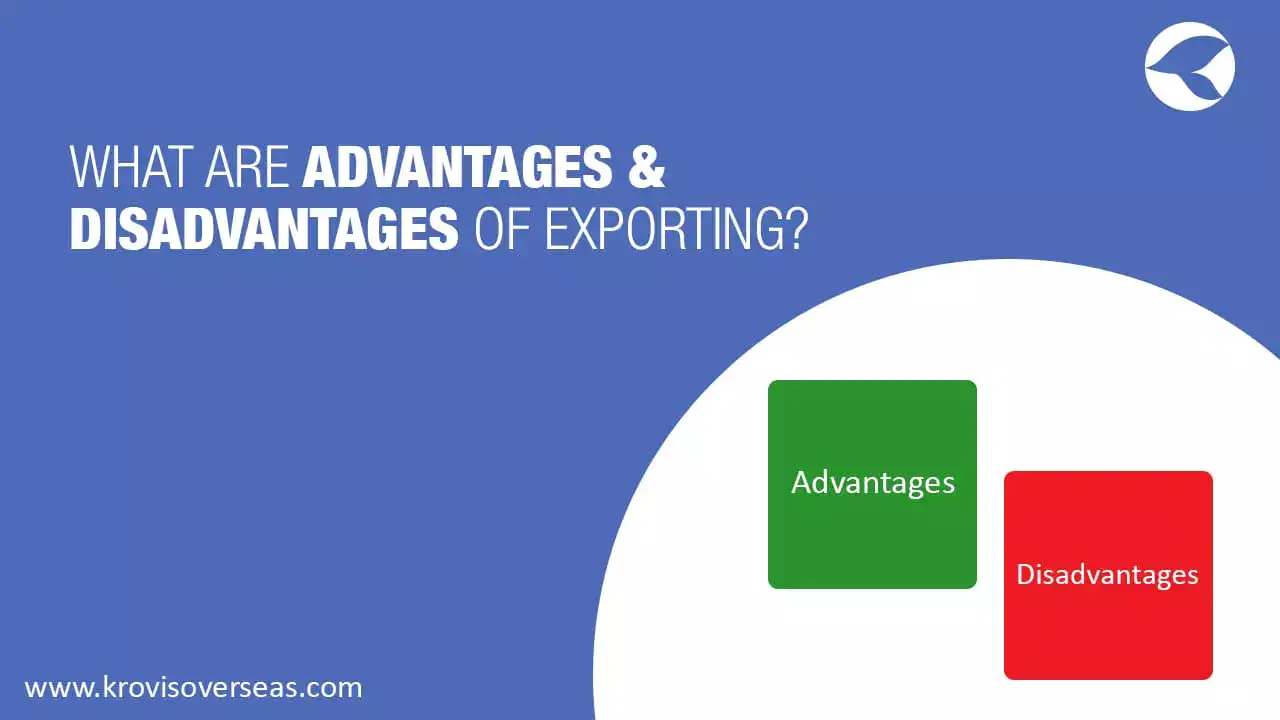 In today's time, the import and export business is the best option. It is the only way by which a business firm can become a part of the international business market and serve their products & services in different regions. You have to choose the business type carefully by which you can achieve your goals quickly. If you have an interest in the export business, then the upcoming paragraphs can help you in gathering lots of information.
Export - An Introduction
Before start learning some major things about the export business, we have to understand what the export business is. In case you are running an international business firm that deals with different types of products and services by selling them to other countries, then it can be called the export business. In other words, you can say, selling products to businesses in other countries is exporting. There are multiple benefits of exporting available that can help you in gaining better experiences. Moreover, the government of all countries also support the export business more than imports. Here, you will get some major information regarding all these factors.
Advantages And Disadvantages Of Exporting
1. Advantages
Business Development
All companies are looking for opportunities by which they can grow quickly by expanding the reach and service area. Now the question appears on how to boost the business and make things better. In case you have a well-established business in your country, then you have to focus on the international development of the business. It is the only way by which you can let your business grow quickly.
If you are a manufacturer and serving some top-quality products to the market, then you should try to grab the export opportunity. You should introduce your products to the international market that can help you in increasing the reach and service area quickly.
No Limit
After being a part of the international marketplace, there are no limits to setting up your business and expanding its reach. It completely depends upon your capacity and resources, how much you can easily deal with. Here, you have to make sure you want to become a small or medium, or large scale exporter. In the market, you can find limitless opportunities for all individuals.
By choosing the option of export business, you can get a big opportunity of increasing business sales and earn a good reputation among some top businesses.
Deal With Local Downsides
In case you are running a business with activities limited to the country borders, then you may face lots of unfavorable conditions. Here, everyone needs to focus on different elements, such as - work on an alternative to cover sales losses, increase the audience base to minimize effects, and so on. If you are dealing only with the local market, then you may not able to work on these things.
By choosing the option of export business, you are capable of finding some new buyers in different parts of the world. If you ever face downsides or some negative trends in the local markets, then you have an option of international markets to maintain a perfect balance and make things perfect.
Increase Profit Rate
It does not matter what kind of business you are running or working on. All individuals want to make a good amount of money from businesses only. Everyone wants to make sure they can create a good margin in the cost and price by which it becomes easier to make lots of profit.
Here, you can detect the biggest difference between a local market and a foreign market. You can find prices higher in the foreign market as compared to the local market. Consequently, it can help you in making a profit at higher rates quickly.
Legal Benefits
The benefits of exporting are not only related to the business and company growth, but also it assists you in getting aid from the government as well. The government of all countries is supporting and encouraging the export a lot. For such a thing, they are offering several additional benefits as well. Expanding your business and choosing the option of exporting can help you in experiencing these important benefits.
Quick Payments
In some businesses, the companies are facing some serious issues regarding payment systems. Here, the companies face multiple problems when it comes to collect payments from the local markets. Due to it, the possibilities of bad debts are always higher. On the other hand, the payment systems in the international market or export business are completely different.
Here, in some deals, you have the option of an advance payment. It means you can get money prior to dispatch a lot of goods and services. In case you are dealing with credit options, then you will get the payment within a few days. It means the chances of bad debts or payment losses are equivalent to zero.
Higher Possibilities Of Growth
Start doing exports does not mean you have no further option to grow. In reality, it is the first step in business growth. Once you start exporting your products and services, after that, you will start getting multiple opportunities for business growth by which you can make things better and avail yourself of several benefits.
2. Disadvantages
Currency Exchange Rate
When it comes to dealing with companies from other countries to sell your products, then you have to take care of lots of factors. The biggest one is related to the currency exchange rate. In all countries, a similar currency is not used. Here, you have to focus on the exchange rate carefully before quoting prices in other currencies.
If you don't focus on all these things, then you may face multiple problems, such as - losses after conversions. Along with it, the currency rates are a variable factor. It always fluctuates and sometimes brings major changes as well. You have to aware of this particular risk.
You can manage it by booking a forward contract with the bank.
Financial Capacity
In the case of the export business, the companies do not need a big-money base for the working capital. Here, all individuals need to check out various factors, such as - stronghold on working capital. It is the only way by which you may avoid the risk of running out of working capital and prevent some bad situations in the business.
Final Words
These are some major factors regarding the drawbacks and benefits of exporting. You have to make a final decision carefully. In case you want to commence an export business, then you should read our other articles.